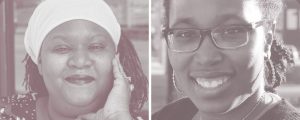 Host: Justice Gatson
Local Audio Producer: Cynthia Fails
In this episode, local audio producer Cynthia Fails interviews Ave Stokes about a year-long process to bring Black and Latinx communities together to heal historic divides and build collective power. Stokes describes why this work is critical for the racial justice and health equity movement in Kansas City, MO, and what they are learning from the process. Stokes also shares his reflections on funding disparities faced by Black and Latinx led organizations and the challenges these disparities pose to building grassroots power.
The second segment, hosted by Justice Gatson of Reale Justice Network, continues the conversation, further examining the year-long process of bridge-building between Black and Latinx communities in Missouri. We hear from Victor Morales of Kansas/Missouri Dream Alliance, Mo Del Villar of ACLU of Missouri, Edgar Palacios of Latinx Education Collaborative, Ave Stokes of Alive & Well Communities, and Hakima Tafunzi Payne of the Uzazi Village. This episode is hosted by Justice Gatson, a Kansas City based organizer, who organizes intersectional movements that uplift the voices of the most marginalized groups.
This podcast acts as a final grant report for Convergence Partnership's 2020 COVID response grants. The Convergence Partnership is a collaborative of local statewide and national funders to advance racial justice and health equity. The Convergence Partnership podcast series introduces you to people and organizations who are building social, political, and economic power.