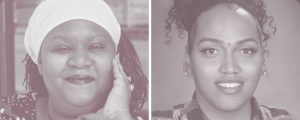 Host: Justice Gatson
Local Audio Producer: Marquel Dominique
In this episode, local audio producer Marquel Dominique interviews House of Tulip's co-founders–Mariah Moore and Milan Nicole Sherry–about what inspired them to work for transgender and gender non-conforming housing justice in New Orleans. In the second segment, Morgan Shannon of Power Coalition for Equity and Justice and Milan Nicole Sherry share the stories that drive them to fight for justice by providing mutual aid and building grassroots power in the face of the pandemic. This episode is hosted by Justice Gatson, a Kansas City based organizer, who organizes intersectional movements that uplift the voices of the most marginalized groups.
This podcast acts as a final grant report for Convergence Partnership's 2020 COVID response grants. The Convergence Partnership is a collaborative of local statewide and national funders to advance racial justice and health equity. The Convergence Partnership podcast series introduces you to people and organizations who are building social, political, and economic power.