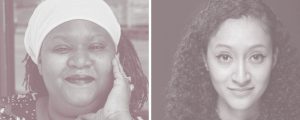 Host: Justice Gatson
Local Audio Producer: Maria Ta
In this episode, local audio producer and artist Maria Ta shares the multidisciplinary community theater project by Ujima Company to educate their community about lead poisoning. Their Legacy of Lead production brings forward the stories of those directly impacted by lead poisoning and educates the community about how concentrated poverty adversely affects the health of communities of color. The second segment, hosted by Andrea Ó Súilleabháin of the Partnership for the Public Good, discusses strategies for racial justice and health equity in the fight against lead poisoning in Buffalo homes and neighborhoods with Rahwa Ghirmatzion from PUSH Buffalo,  Jessica Bauer Walker of Community Health Worker Network of Buffalo, and Maria Ta of Ujima Company. This episode is hosted by Justice Gatson, a Kansas City based organizer, who organizes intersectional movements that uplift the voices of the most marginalized groups.
This podcast acts as a final grant report for Convergence Partnership's 2020 COVID response grants. The Convergence Partnership is a collaborative of local statewide and national funders to advance racial justice and health equity. The Convergence Partnership podcast series introduces you to people and organizations who are building social, political, and economic power.