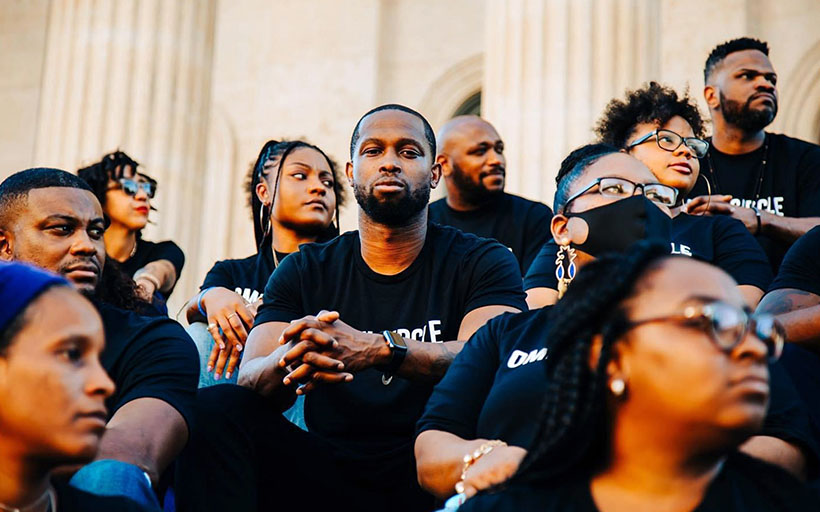 In Kansas, nonprofits funded by Convergence and our funder partners are working to grow understanding and support of anti-racist policy across the state, and to bring in policy that improves the health and well-being of all Kansans, both urban and rural.
The four grassroots organizations in Kansas are working to build a stronger organizing infrastructure to increase public understanding and support for anti-racist policies across the state; create harmony across different racial/ethnic groups and communities; and, advocate for solutions that improve the health and well-being of urban and rural communities of color across Kansas.
Destination Innovation is a youth serving organization in Wichita that aligns boldly-resilient young people with the tools and mindset to move courageously, with purpose and discipline, in activating underserved communities. They run three core youth development programs: Camp Destination Innovation (entrepreneurship), Root the Power (civic engagement), and Progeny (leadership for those who have interacted with the juvenile justice system). They also work to ensure staff members are healthy, paid, and supported to do their jobs well.
Hutch in Harmony helps communities come together to fight against hate and division by promoting inclusion and celebration of difference. Hutch in Harmony facilitates events to address racial justice and equity; develops new partnerships and projects to address immediate community member needs; and has become a powerful leader and voice with local government advocating for equitable development and anti-displacement efforts for historically Black and Brown neighborhoods in Hutchinson.
Omni Circle Group is a one-stop community hub and workspace that provides personal and professional development to its members and works to promote advocacy and collaboration in a multicultural and multi-generational community. Omni Circle Group works to build the confidence, skills, capacity and trust of Topeka's Black residents in order to create a pipeline for residents to become local leaders and elected officials. 
The Community / La Comunidad offers immigration services, family resources, and technology to a diverse population in Garden City, rich with immigrants coming from at least 26 countries of origin. The Community, Inc. has grown their staff to build the power and engagement of Garden City residents in a variety of immigrant communities through expanded civic engagement efforts and partnerships. They are also working to identify local boards and commissions that are relevant to critical issues in these communities (e.g. transportation, housing, etc.), and developing a pipeline of key leaders within each language group to pursue seats on these governing bodies.